Depending on your age, a visit to Kennedy Space Center in Florida can either ignite new dreams of being an astronaut or revive old ones that never really went away.
Those of us old enough to remember the grainy TV footage of the first astronauts walking on the moon, can relive those memories when we tour the popular Florida attraction, but for younger guests, a visit to KSC can be a lot more profound. For many, it will inspire a lifelong interest in space and science and some of them may even be lucky enough to become astronauts themselves.
"We want young students to come to the Kennedy Space Center and try the Shuttle Launch Experience, visit our Mars galleries and get a feel for what we're doing, because I want them excited, just like I got excited as a young boy to go into space myself," said Don Thomas, a former astronaut who flew on four Space Shuttle Missions in the 1990s. 
"We always tell the students, 'we need you,' said Thomas during an online appearance at this year's virtual version of Florida Huddle, the state's official travel trade show that showcases the Sunshine State to international and domestic tour operators, wholesalers and media.
"We're building these new rockets and designing new spacesuits at NASA and habitats for Mars, but we're going to need our next generation of scientists, engineers and astronauts ready. That's why it's so important to get our young students excited."
Located just an hour from Orlando, KSC is one of the state's premier family tourist attractions and while it was closed for a brief period at the start of the COVID-19 pandemic, it reopened in May 2020 with strict health protocols in place and some modifications to its operations. For example, the bus tours and Apollo/Saturn V Center remain closed, but there are many other elements that remain open such as the popular Space Shuttle Atlantis exhibit that lets people get up close to the famous spacecraft.
"You can almost reach out and touch it," said Thomas. "You can get that close so that you really get a good view of how huge the Space Shuttle. Atlantis flew on 33 missions so you can see the discolouration from the burning as it's coming in through the atmosphere. It's quite emotional, even moving, to see it in person."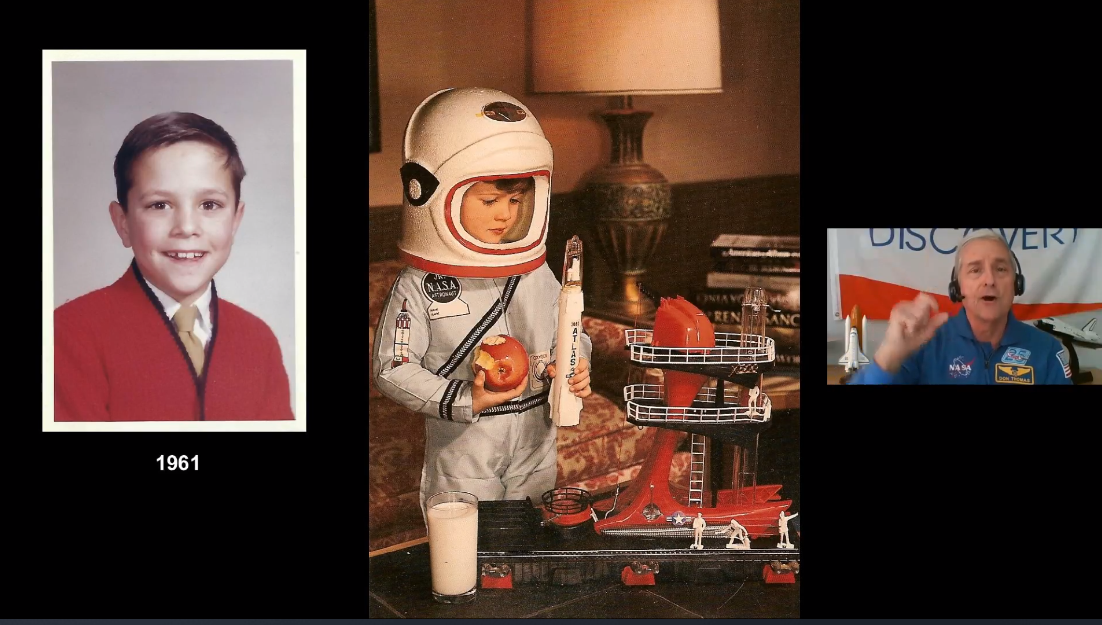 Visitors can also participate in a simulated Space Shuttle Launch which Thomas says is pretty close to the real thing, minus one important element. 
"You can get a pretty good feel for what a launch is like on the Shuttle Launch Experience. They'll strap you in your seat; it'll rock and roll; you'll hear the roar of the engines. I tell people the only difference between the Shuttle Launch Experience and the real mission — that is that fear factor." 
There are several other simulators scattered throughout the centre that visitors can experience along with attractions like the U.S. Astronaut Hall of Fame and the Heroes and Legends hall which explore the early days of space exploration, but Thomas thinks the NASA Now + Next zone is the most exciting. This is where visitors can immerse themselves in the science of the International Space Station and what NASA is planning for the future, including its imminent return to the moon and eventual journeys to Mars. The centre-piece of this exhibit is a full-scale model of the Orion capsule which will take astronauts to those distant destinations. 
Thomas spoke about the timeline of the Artemis missions to the moon and thinks that if all goes according to plan, Artemis 3 will land two astronauts on the south pole of the moon in 2024. 
"Fifty years ago, we landed 12 Americans on the moon. They were all men and this mission, just four years away, we're going to land the first woman on the moon, and also, the next man," said Thomas. "Just four years away from the first woman on the moon. I think that's incredibly exciting. I know I'm going to be down at the Kennedy Space Center to watch that launch as they leave for the moon."
For more information about Kennedy Space Center, visit https://www.kennedyspacecenter.com